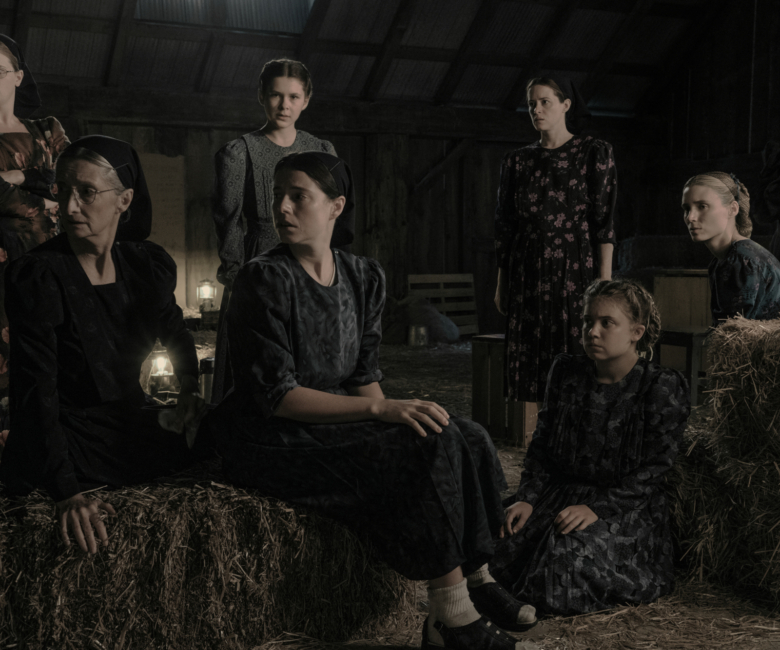 Women Talking
VS | 2022 | 104 MIN | SARAH POLLEY
TAAL: ENGELS | ONDERTITELING: NEDERLANDS
11 MAART 2023 | 16:00 UUR
In deze verfilming van het gelijknamige boek van Miriam Toews probeert een groep vrouwen uit een gesloten geloofsgemeenschap de brute realiteit van herhaaldelijk seksueel geweld te verzoenen met hun geloof.
Deze verfilming van het gelijknamige boek van Miriam Toews vertelt het waargebeurde verhaal van een gesloten geloofsgemeenschap in Bolivia. In een kolonie waar vrouwen per definitie onderdanig zijn aan de man, vindt herhaaldelijk seksueel geweld plaats. Gedurende meerdere jaren worden vrouwen en meisjes gedrogeerd en seksueel misbruikt door de mannen in de gemeenschap, in sommige gevallen met zwangerschap als gevolg. Nadat één van de vrouwen het heft in eigen handen neemt, besluit een groep vrouwen uit de gemeenschap samen te komen en te overwegen wat hun opties zijn: niets doen, vertrekken, of blijven en de confrontatie aangaan.
In het tweemaal voor een Oscar genomineerde Women Talking worden de vrouwenrollen vertolkt door grote namen als Rooney Mara, Frances McDormand, Jessie Buckley en Claire Foy. Regisseur Sarah Polley (Stories We Tell) wilde met de film de kracht van taal, van communicatie laten zien. Om onbesproken zaken onder woorden te brengen in een cultuur waar deze vrouwen geen stem hadden. En bovenal: dat ze niet alleen spreken over hoe ze geschaad zijn - de film gaat niet gedetailleerd in op het seksueel misbruik - maar over hoe ze voorwaarts kunnen, hoe ze kunnen bouwen aan een betere toekomst en hoe die eruit kan gaan zien.
Speeltijden
| | | |
| --- | --- | --- |
| zaterdag | 11 maart 2023 | 16:00 uur |
ENGLISH
Do nothing. Stay and fight. Or leave. In 2010, the women of an isolated religious community grapple with reconciling a brutal reality with their faith.
This film adaptation of Miriam Toews' novel of the same name tells the true story of a closed religious community in Bolivia. Here, where women are considered to be fundamentally inferior, repeated sexual assault takes place. For many years, women and girls are being drugged and sexually abused by the men in the community, in some cases resulting in pregnancy. When one of the women starts to take matters into her own hands, a group of women decide to get together and talk. They consider their options: do nothing, leave, or stay and fight.

In this twice Oscar nominated film, the impressive cast includes actors such as Rooney Mara, Frances McDormand, Jessie Buckley and Claire Foy. With Women Talking, director Sarah Polley (Stories We Tell) wants to show the power of language, of communication. To find words for that which has previously been left unspoken, to start a debate in a culture where these women did not have a voice. And above all: that they don't just talk about the harms done - the film is not detailing graphic sexual assault - but about how they can move forward, how they can build a better future and what they want that future to look like.