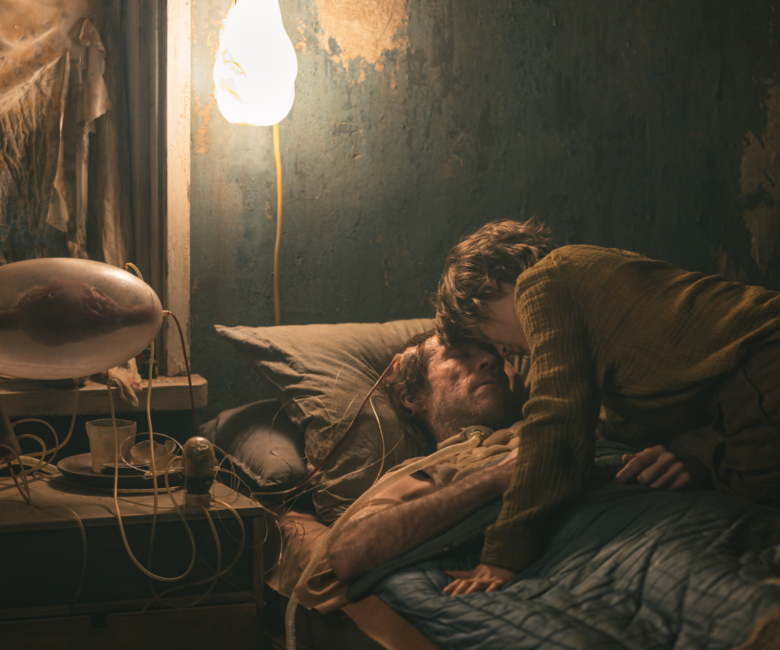 Vesper
LETLAND, FRANKRIJK, BELGIË | 2022 | 114 MIN | KRISTINA BUOŽYTĖ, BRUNO SAMPER
TAAL: ENGELS | ONDERTITELING: NEDERLANDS
11 MAART 2023 | 16:15 UUR
12 MAART 2023 | 11:00 UUR
De dertienjarige Vesper en haar verlamde vader proberen te overleven nadat het ecosysteem van de aarde is ingestort. In dit dystopische sciencefiction-sprookje moet Vesper vertrouwen op zichzelf en de excentrieke personages die ze tegenkomt, vechtend voor een alternatieve toekomst.
Als het ecosysteem van de aarde instort, probeert de 13-jarige Vesper (Raffiella Chapman) een manier te vinden om samen met haar verlamde vader (Richard Brake) te overleven. De oplossing zou zich bevinden in de Citadel, waar rijke oligarchen comfortabel leven dankzij hoogstaande biotechnologie. Het is het begin van een gevaarlijk avontuur, waarin Vesper moet vertrouwen op haar eigen krachten en de hulp van excentrieke metgezellen die ze tijdens haar zoektocht ontmoet, waaronder de mysterieuze Camellia (Rosy McEwen, ook te zien in Blue Jean tijdens IFA). Maar verstrengelde belangen zouden de hoop op een betere toekomst zomaar teniet kunnen doen...
Deze unieke dystopische sci-fi van Kristina Buožytė en Bruno Samper heeft prachtige schilderachtige vergezichten, sterke audiovisuele ontwerpen en een heel eigen uitstraling. Vesper, eigenlijk een modern sprookje, vertelt een hoopvol verhaal dat jong en oud nog lang bij zal blijven.
Speeltijden
| | | |
| --- | --- | --- |
| zaterdag | 11 maart 2023 | 16:15 uur |
| zondag | 12 maart 2023 | 11:00 uur |
ENGLISH
Thirteen-year-old Vesper and her paralyzed father try to survive after Earth's ecosystem collapses. In this dystopian science fiction-fairy tale, Vesper must rely on herself and the eccentric characters she encounters, fighting for an alternative future.
Set after the collapse of the Earth's ecosystem, the film follows Vesper (Raffiella Chapman), a headstrong 13-year-old girl who uses her survival skills to subsist in the remnants of a strange and dangerous world with her ailing father, Darius (Richard Brake). When Vesper finds a mysterious woman, Camellia (Rosy McEwen, see also Blue Jean during IFA), alone and disoriented after an aerial crash, she agrees to help find her missing companion in exchange for safe passage to the Citadel - the dark central hub where oligarchs live in comfort thanks to state-of-the-art biotechnology. Vesper soon discovers that her brutal neighbor, Jonas (Eddie Marsan), is searching for Camellia, who is harboring a secret that could change all of their lives forever. Forced into a dangerous adventure, Vesper must rely on her wits and bio-hacking abilities to unlock the key to an alternate future.
This remarkable dystopian sci-fi from Kristina Buožytė en Bruno Samper has beautiful scenic vistas, strong audiovisual designs and a completely unique style. Vesper, in a sense a modern fairy tale, tells a hopeful story that will stay with the viewer for a long time.