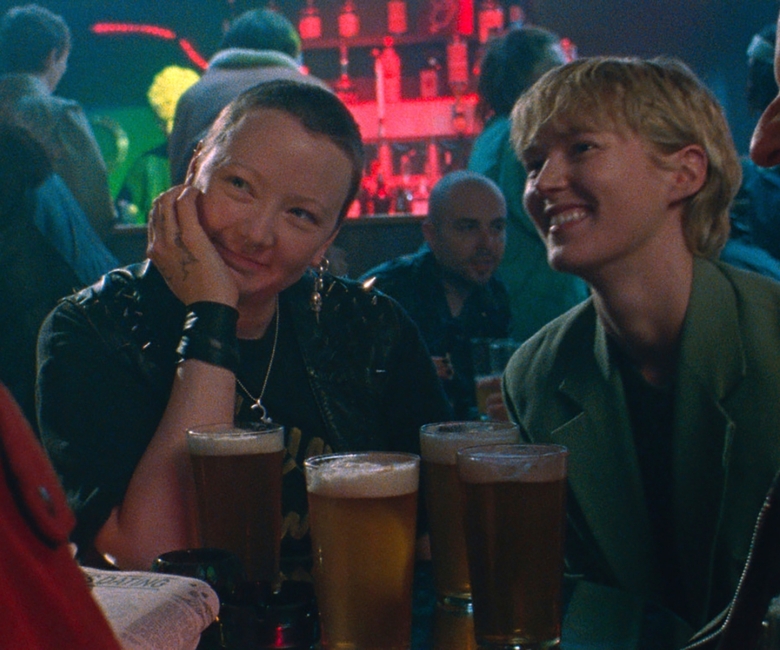 Blue Jean
VERENIGD KONINKRIJK | 2022 | 97 MIN | GEORGIA OAKLEY
TAAL: ENGELS | ONDERTITELING: NEDERLANDS
11 MAART 2023 | 13:15 UUR
12 MAART 2023 | 16:30 UUR
1988, Engeland. Een nieuwe wet, die de promotie van homoseksualiteit verbiedt, maakt het voor gymdocent Jean nog moeilijker om open te zijn over haar seksualiteit. Maar door de komst van een nieuwe leerlinge wordt ze gedwongen keuzes te maken.
Engeland, 1988. Gymnastieklerares Jean wordt min of meer gedwongen een dubbelleven te leiden wanneer de conservatieve regering van Margaret Thatcher een wet aanneemt die de promotie van homoseksualiteit verbiedt. Om achterdocht van collega's en leerlingen te voorkomen, houdt Jean haar geaardheid en haar vriendin Viv verborgen, maar door de komst van een nieuwe leerling wordt ze uiteindelijk toch gedwongen keuzes te maken.
Dit zeer sterke debuut van Britse regisseur en scenarioschrijver Georgia Oakley laat zien dat iedereen een plaats heeft in de wereld, hoewel dit niet altijd en door iedereen als vanzelfsprekend wordt gezien. Blue Jean werd geselecteerd voor het Giornate degli Autori-programma van het Filmfestival van Venetië, waar het de Publieksprijs ontving. Ook won de film vier British Independent Film Awards, waaronder een voor het scenario en die voor de Beste Hoofdrol (een indrukwekkende Rosy McEwen).

-----------

Roze Filmdagen Amsterdam LGBTQ+ Film Festival is een twaalfdaags filmfestival dat films en documentaires vertoont met LHBTQ+ gerelateerde thema's. Met jaarlijks zo'n 130 titels uit ruim veertig verschillende landen geeft het festival een goed beeld wat er wereldwijd op de 'roze' agenda gebeurt. Met zowel populaire films als kleinere alternatieve titels, die meestal niet in de bioscoop te zien zijn, toont Roze Filmdagen verhalen waarmee de doelgroep zich kan identificeren, waar de hele gemeenschap zichtbaar is, waar rolmodellen te vinden zijn en seksuele diversiteit gevierd wordt. Met groot plezier presenteren IFA en Roze Filmdagen dit jaar voor de vierde keer een (wederzijds) gastprogramma.
"Blue Jean is een verhaal uit het Thatcher-tijdperk waarmee regisseur Georgia Oakley dat klimaat van politiek gepropageerde homofobie helder oproept, en het verleden effectief in stilzwijgende dialoog met het heden plaatst. Rosy McEwen is fenomenaal in de hoofdrol, gesteund door al even sterke bijrolacteurs, in dit aangrijpende persoonlijk-politieke drama dat ook nog eens een geweldige retro-soundtrack heeft."

Op zaterdag 11 maart (zaal 5, 13:15) zal Werner Borkes, festivaldirecteur en programmeur van Roze Filmdagen, de film inleiden.
Speeltijden
| | | |
| --- | --- | --- |
| zaterdag | 11 maart 2023 | 13:15 uur |
| zondag | 12 maart 2023 | 16:30 uur |
ENGLISH
In 1988, England, closeted gym teacher Jean is pushed to the brink when a new student threatens to expose her sexuality.
England, 1988. Gym teacher Jean feels forced to lead a double life when Margaret Thatcher's conservative government introduces a series of laws that prohibits the promotion of homosexuality. In order to prevent coworkers and students from growing suspicious, Jean decides to hide her sexuality and her girlfriend Viv. However, the arrival of a new student makes it impossible for Jean to keep up appearances and eventually forces her to make a decision.
Blue Jean is British director and screenwriter Georgia Oakley's first film, and illustrates how everybody has a place in this world, even if this is not taken for granted by everyone. Blue Jean was awarded the Giornate degli Autori's People Choice Award at the Venice Film Festival, and won four British Independent Film Awards, including Best Debut Screenwriter and Best Lead Performance (an impressive performance by Rosy McEwen).
Roze Filmdagen Amsterdam LGBTQ+ Film Festival is a 12-day film festival focusing on LGBTQ+ themes, with around 130 films and documentaries from over forty different countries. With both popular titles and less known alternative titles which are often not released in cinemas, Roze Filmdagen offers stories that LGBTQ+ visitors can identify with, making the entire community visible, providing role models and celebrating sexual diversity. At this year's editions of both festivals, IFA and Roze Filmdagen proudly present a guest program at each others festival.
'Blue Jean is a story from the Thatcher era with which director Georgia Oakley vividly recalls the climate of politically propagandized homophobia, while effectively juxtaposing the past and present in silent dialogue. Rosy McEwen is a phenomenal lead, supported by similarly compelling actors, in this engaging personal-political drama with a sensational retro soundtrack.'

On Saturday, the screening of Blue Jean (zaal 5, 13:15) will include an introduction by Werner Borkes, festival director and programmer at Roze Filmdagen.