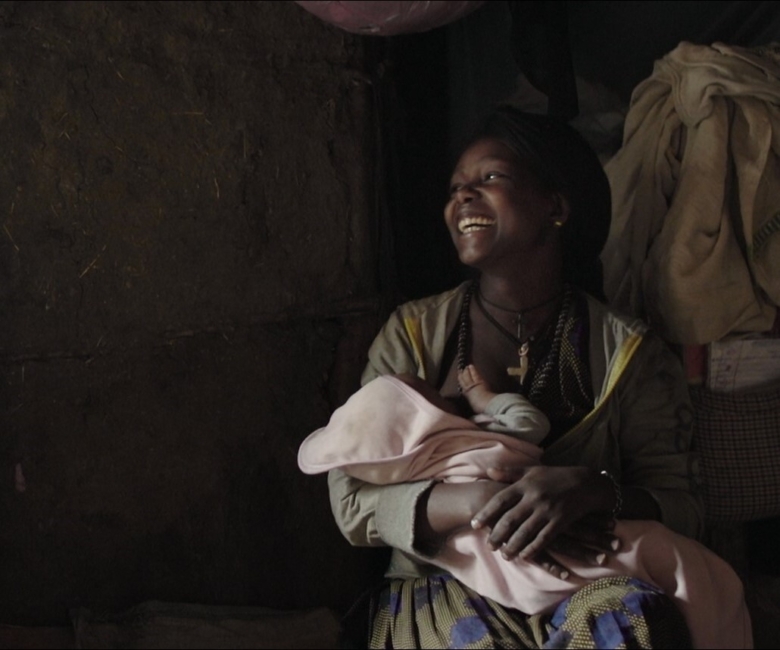 Among Us Women
DUITSLAND, ETHIOPIË | 2021 | 93 MIN | SARAH NOA BOZENHARDT, DANIEL ABATE TILAHUN
TAAL: AMHAARS | ONDERTITELING: ENGELS
11 MAART 2023 | 19:15 UUR
12 MAART 2023 | 16:00 UUR
Op het Ethiopische platteland zorgt de komst van een medische kliniek voor een ontwikkeling in verloskunde. Zwangere Hulu (25) worstelt met haar verlangens en de verwachtingen van haar als moeder, echtgenoot en vrouw, en vindt steun bij traditionele vroedvrouw Endal (70) en de vrouwen in het dorp.
Op het platteland van Ethiopië maakt de verloskunde een ontwikkeling door met de komst van een nieuwe kliniek, waar artsen er alles aan doen om moedersterfte te voorkomen. Maar het afstappen van tradities en praktische problemen, zoals de afstand tot de kliniek en een gebrekkige ambulance, maken mensen terughoudend. Ook de 25-jarige Huluager Endeshaw, zwanger van haar vierde kind, twijfelt tussen de moderne en de vertrouwde aanpak, en tussen wat er van haar verwacht wordt en wat ze nodig heeft. Ze wil haar eigen pad volgen en zoekt steun bij de traditionele vroedvrouw Endal Gedif (70), die zelf ook opnieuw moet ontdekken hoe ze het best zorg kan dragen voor moeders in spé, met de beperkte middelen die ze tot haar beschikking heeft.
In de documentaire Among Us Women nemen regisseurs Sarah Noa Bozenhardt en Daniel Abate Tilahun ons op knappe wijze op tussen de vrouwen van het dorp Megendi. We worden deelgenoot van hun verlangens, verdriet en solidariteit, en zien hen moed verzamelen voor kleine en grote gebaren van verzet en zelfbeschikking - in een wereld die patriarchaal is ingericht, maar die ook aan het veranderen is.
Speeltijden
| | | |
| --- | --- | --- |
| zaterdag | 11 maart 2023 | 19:15 uur |
| zondag | 12 maart 2023 | 16:00 uur |
ENGLISH
In rural Ethopia, maternity care is changing when a medical clinic opens. Pregnant Hulu (25) wrestles with the role she is expected to play as a mother, a wife and a woman, and turns to traditional midwife Endal (70) for support. Both because of her fellow women and despite them, Hulu holds on to the desire to define her own path.
In rural Ethiopia, maternity care is changing as a new medical clinic opens. Doctors work hard to prevent maternal mortality, but people are reluctant to visit. They feel they are abandoning traditions and are sceptical of practical problems such as distance to the clinic and inadequate ambulance service. Huluager Endeshaw (25) is pregnant with her fourth child and hesitant to choose between modern and traditional systems, between what's expected of her and what she needs. Wishing to follow her own path, she seeks support from traditional midwife Endal Gedif (70), who must also rediscover how to use the limited resources at her disposal in order to best provide care for mothers-to-be.
In their documentary Among Us Women, Sarah Noa Bozenhardt and Daniel Abate Tilahun cleverly manage to make the audience part the women's life in the village of Megendi. We are invited to share their desires and sorrows, their solidarity, and to watch them as they gather courage for small and large gestures of resistance and self-determination - in a patriarchal world, that is slowly but surely changing.